Specifications New Honda Scoopy PGM-FI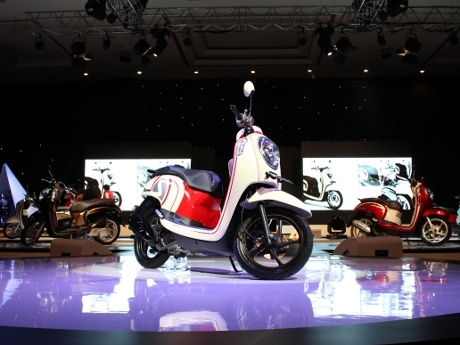 Although the outside is not too much changed, but from the side of the machine, injection Scoopy different from the old. Scoopy injection engine has the same engine as yours-FI Honda Beat.
It's also directly conveyed Technical Training Department Manager PT AHM, Sarwono Edhi in London.
Although the same basic BEAT little difference. "The machine is offered New Honda Scoopy PGM-FI, have different machines with the old Honda Scoopy. Generally basic engine is the same as the Beat-FI engine. However this machine adjusting the angle of ignition, it is what distinguishes the Beat-FI engine," Sarwono added.
These specifications Scoopy Injection:
Length X Width X Height: 1856 x 694 x 1060 mm
Axis Wheels distance: 1256 mm
Lowest distance to the ground: 140 mm
Type of order: The backbone
Type front suspension: Telescopic
Type of rear suspension: swing arm with single sokbreker
Front brake: hydraulic disc with single piston
Fuel tank capacity: 3.7 liters
Engine type: 4 stroke, SOHC
Bore x stroke: 50 x 55 mm
Compression Ratio: 9.2: 1
Maximum power: 6:27 kW (8.52 hp) / 8000 rpm
Maximum Torque: 8.68 Nm (0.89 kgf.m) / 6500 rpm
Lubricant Oil Capacity Engine: 0.7 liter in the periodic replacement
Automatic Clutch: Automatic, centrifugal, dry type
Dental Transmsi: Automatic, V-Matic
Pattern transfer Teeth: -
Starter: Pedal & Electrical
Aki: MF battery, 12 V, 3 Ah
Spark plug: NGK DENSO CPR9EA-9 U27EPR9
Ignition System: Full Transisterized, Battery